Friday, January 20th, 2012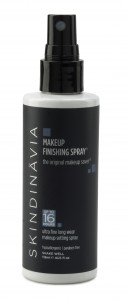 Today's gift is an actual gift, one I received in the mail.  A fab NYC p.r. firm sent me a complimentary beauty product  to review here on My So-Called Sensory Life and I can't wait to try it!   In fact, I'm so excited that I'm doing a pre-review post.  A first here on my blog.
News flash — I am a product and accessory junkie (makeup, skincare, perfume, hair, handbags, jewelry, scarves, etc).   The new product I'll review: Skindinavia's Moisture Lock Finishing Make-up Setting Spray.
The press release promises it will be my NEW SETTING POWDER (woo-hoo) and will give me glowy, luminous skin — even in the winter!  Wow, right? I'm told that Skindinavia's makeup finishing sprays were used during the 2011 Lady Gaga and Britney Spears tours – so if these setting sprays can work under those extreme environments, I'll look amazing dashing around  town with the twins, meeting my p.r. clients, or even just around the house.
Come back soon for my demo (and my vlogging debut) here!