Wednesday, March 31st, 2010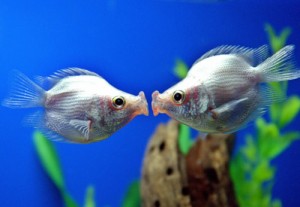 My morning started with a soppy slipper, but instead of sulking over my flooded basement, I am thinking about the other wet thing that started my day:  M's big, fat kiss.   I actually crave those wet kisses.  In fact, the wetter and longer they are, the better.  (This is starting to sound X-rated !).
M is the perfect kisser — he always indulges my  "Please give Mommy a kiss!" request — usually bestowing a few extra.  Unprompted, he frequently surprises me with a delicious, spontaneous, unexpected smooch.
His technique is simple:  first, a huge smile, followed by a small giggle, and then he moves into position.  He has no idea he's literally showering me with his kisses (and I do not mind one bit) and his aim is precise. Regardless of whether it is the right or left cheek, his little lips lock onto his target and they linger just long enough to make a cute kiss-y noise.
This all happens in an instant and then, just as quickly,  he's back to being a boy full of energy, unable to sit still, driving trucks, running away from his sister…but if I glance quickly, I can catch the faintest hint of a pucker on his little lips as my cheek dries.