Sunday, June 20th, 2010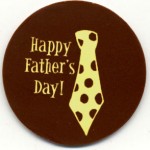 A Father's love is very different from a Mother's love.
Today I celebrate the gifts — big and small — of his special love for our children.
The journey to parenthood
It's a Girl! It's a Boy!
Sleepless nights
Pumpy and Lady
Staying up all night in the yellow chair
Sleeping on hospital pull-out beds
Coming to all the doctor's appointments — all the time
Writing a love letter to each of you
Passionate
The Red Sox!!!!!!!!!!!
Music, music and more music
Birthday parties
Devoted
Dedicated
BI
Clams
Disney (twice!)
The Patriots
Sailing
Cutting the grass
Four-wheelin
Dancing in the family room
Lobster Bakes
The Best Pancakes
The Dump
Gumballs
Charging Johnny
Number stories and homework
Priority
Books and more books
Tickles and more tickles
Meetings
Dad's office
Ceremonies
Events
Games
Presents
Math
The Commander
Sunsets
Kisses and hugs
"My Heart"
Bedtime stories
"My #1″
"My Girl"
Bedtime songs
More I Love Yous than I can ever count
My husband is an incredible Dad.  (And he has a lot to live up  — just ask my incredible, amazing, devoted, generous, kind,  sweet, brilliant, super, powerful, can fix anything, handsome, cool, nice, best father in the universe Dad.)
Happy Father's Day!