Monday, January 31st, 2011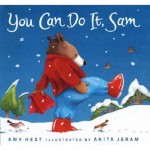 I devoted some of this past weekend to cleaning my office: organizing work, home, and family files and materials.  Fans of My So-Called Sensory Life already know how much I adore Clutter Guru Peter Walsh (Read my Mr. Clean Post here) and after a marathon of his new OWN show, I was energized and ready to conquer the clutter.
I'm proud to say that I cleaned and cleared away most of my unnecessary files and dumped loads of dated paperwork.
I'm also thrilled to report I stumbled on a few treasures.
One of the treasures is today's gift:  one of M's favorite books You Can Do It, Sam by Amy Hest.
It seems like just yesterday I read this book to him over and over while he lay in his crib eyes riveted to the book.  My husband and I read this Sam book (and another one called Kiss Good Night) so many times that we could recite the lines anytime, anywhere.  Like magic words, they calmed M (and J) and became our nighttime lullaby.
My other memory is the very vivid one about M's early attachment to books.  From the moment he could hold a book, M has loved every part of them.  Books offered a calming object to his sensitive nervous system and a favorite object to touch and hold.  Books were an early obsession for M.  This seemed great until he decided to explore the books by tearing the covers off, then pulling the pages out, and finally making piles of paper to roll around in and use as a non-book activity.  The first time I saw the ripped pages of a favorite book, I felt physical pain.   After that day, I listened intently every time M was alone with a book so that I could hear the second he started to tear a page.  We lost many beloved characters during M's tearing phase, but happily he grew out of it and his book obsession eventually lead to his early reading prowess.
I'll never forget Sam or Mama Bear — they were a real part of our early journey with M and J and Sensory Processing Disorder.  And now I have a new memory about the book:  when I showed it to M tonight, he held it with love, kindness and the gentle touch reserved for a beloved object. Deep down, I always knew M (and Sam) could do it.