Monday, August 22nd, 2011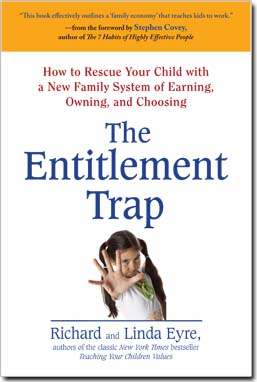 Did you know today is National Entitlement Day?  Or  as I like to call it National Un-Spoil Your Child Day!?
I'm happy to be part of the terrific and dedicated team celebrating the upcoming publication of the new must-have handbook for all parents: THE ENTITLEMENT TRAP: How to Rescue Your Child with a New Family System of Choosing, Earning, and Ownership (Avery paperback original; on sale: September 6, 2011; $18.00) by bestselling authors Richard and Linda Eyre
Today only, there is an online give-away for those who pre-order the book.  The authors are offering terrific prizes!
Click here to enter.
I hope you'll join this parenting revolution!
Read more about the book and authors below.
About Richard and Linda Eyre and THE ENTITLEMENT TRAP:
For the last twenty-five years, parenting experts and #1 New York Times bestselling authors Richard and Linda Eyre have advised parents on how to raise their kids, teach life's greatest values and build stable homes.
In their new book THE ENTITLEMENT TRAP, the Eyres provide a new approach for a new generation of parents who are struggling to raise responsible kids in a world full of materialism, instant gratification, and undeserved entitlement.
Both Richard and Linda Eyre have spent the last decade traveling the world, speaking to corporations, schools and community groups on how to build, maintain, and nurture stable families. The parents of nine children (and the grandparents of 21!) the Eyres share how to:
"unspoil" kids
teach children how to work for what they want
replace a child's sense of entitlement with a sense of ownership
spur enthusiasm about responsibility in unmotivated children
cultivate values of discipline, integrity, and self-reliance in their families
foster smart, economically-responsible children
reconcile differing parenting styles between parents and grandparents and incorporating grandparents into your new parenting style