Tuesday, May 29th, 2012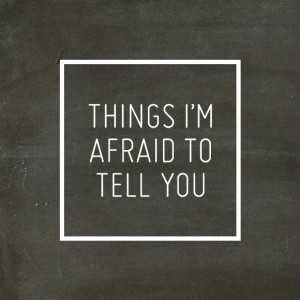 Today's gift:   Have you seen the "Things I'm Afraid to Tell You" posts that bloggers have been doing the last few weeks?    Leslie Fandrich of the excellent blog Lights and Lights invited me to participate in Round 3.
Our posts all go live Tuesday, May 29, at noon EST.  We will collectively hit publish at the same time — for moral support and to push the movement a little further (Round 4 anyone?).
There isn't anything as freeing for bloggers as virtually holding hands and sharing secrets.  And so, here is my "Things I'm Afraid To Tell You" list:
It's been more than a decade, and though I'm blissfully married with a miraculous set of twins, I still miss living in NYC.

I am superstitious. Very superstitious.
Sometimes I am still afraid of the dark – especially after a nightmare. (See superstitious.)
I am not a great swimmer but really wish I was and yet I keep procrastinating about taking swimming lessons. This is serious stuff because we spend the summer sailing.
I procrastinate about cleaning my office every single week!
I love watching Bethenny Ever After on Bravo.  And I'm kind of obsessed with her success story.

I have to force myself to give myself ME time.
I am addicted to accessories. I have unopened, never-used handbags and jewelry.  Am I a hoarder in the making?
I hate grocery shopping. I. Hate. It.
I sometimes wonder why God chose me to be both a parent of twins and a special needs parent.  Why does he have so much faith in me?
I am irrationally afraid of bees.  As in, I will run like a mad woman when they come near me.
I eat candy like an addict.

I try to write about the good and the bad when I blog and sometimes I'm VERY scared to be so honest because I'm not sure how my twins will feel when they are older and can read what I've published about them.  Related to this is my struggle with privacy and how public I should or shouldn't be about our and their lives.
I worry that my social media friends think I drink way too many Dirty Martinis!
Blogging saved my life.

A shout out to my gifted Round 3 blogger friends who agreed to post with me today. Thank you to all of them and please be sure to go check out what they have to say as well. (Please leave us some comment love, here and there, it helps so much to get support on vulnerable posts like these!)
Jill at Terra Savvy | Erica at The Elbow | Jen at Taking Off the Mask | Kate at Modern Home Modern Baby | Laura at My So Called Sensory Life | Monique at Razing Mayhem | Caroline at Salsa Pie | Leslie at Life In Every Limb | Tammie at Tam.Me | Melanie at Inward Facing Girl | Amy at Old Sweet Song | Michelle at Early Mama | Jen at Jen Epting | Leslie at Lights and Letters | Sarah at SAWK Photography
My post would not be complete without giving shout-outs to the braves ladies that published their lists before me:
The very first one  —  Jess Constable. (Background about how it started is here on Creature Comforts, including confessions.) Erin Loechner and Sarah Bryden Brown posted theirs in Rounds One and Two.  Meg started round two and shares her secrets on Meg + Mimi along with all the bloggers listed for Rounds 1 and 2.
Do I hear a volunteer for Round 4? What is on your list?
Cheers to all!  And congratulations on pushing "publish" today.