Friday, August 24th, 2012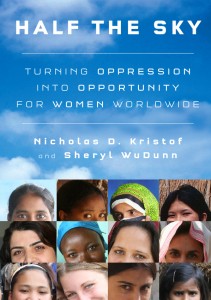 Today's gift:  Half The Sky by Nicholas D. Kristoff and Sheryl WuDunn (book and movement and television series).
As a graduate of the University of Connecticut, I was thrilled to learn that the university's first UConn Reads program featured the New York Times writer and his bestselling book as the inaugural book selection for the program this past spring.    Nicholas Kristof visited the Storrs campus in April.  Reading this book is both eye-opening and inspiring.
The best news:  Half The Sky: Turning Oppression into Opportunity for Women World Wide is not only a book but also a movement and a PBS series.
I'm a huge PBS fan and supporter and so it's an honor to announce today that I am part of The Mission List blogger campaign supporting the series.    Along with a terrific and inspiring group of bloggers, we'll  be hosting viewing parties and sharing news throughout September, leading up to the October broadcasts.  This landmark transmedia also includes a Facebook-hosted social action game, mobile games, two websites, educational video modules with companion text, a social media campaign supporting over 30 partner NGOs, and an impact assessment plan all inspired by Half the Sky: Turning Oppression into Opportunity for Women Worldwide, the widely acclaimed book by Nicholas Kristof and Sheryl WuDunn.
The PBS Series Half the Sky: Turning Oppression into Opportunity for Women is a four-hour television series shot in 10 countries: Cambodia, Kenya, India, Sierra Leone, Somaliland, Vietnam, Afghanistan, Pakistan, Liberia and the U.S.  Traveling with intrepid reporter Nicholas Kristof and A-list celebrity advocates America Ferrera, Diane Lane, Eva Mendes, Meg Ryan, Gabrielle Union and Olivia Wilde, the series introduces women and girls who are living under some of the most difficult circumstances imaginable — and fighting bravely to change them. Their intimate, dramatic and immediate stories of struggle reflect viable and sustainable options for empowerment and offer an actionable blueprint for transformation. The series will premiere in the United States Oct. 1 and 2, 2012, with international broadcast to follow.
Here's a sneak peek at the trailer:  Half The Sky Trailer
I hope you will save the date and join me here for news and more information this fall including celebrity involvement, a music campaign, and social media events/giveaways.