Saturday, April 6th, 2013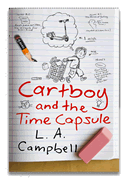 "Hal Rifkind is a sixth grader who's having the worst year of his life. Not only is Hal's best friend going behind his back, but his dad makes him carry his books in an old lady cart and all the kids call him Cartboy. To make matters worse, Hal is nearly failing history. His teacher, Mr. Tupkin, gives the class a yearlong assignment to write a journal that will go in a time capsule so a future being can read it. Hal has no idea how he's going to make it through sixth grade. But maybe, just maybe, the story of the founding fathers can help."
Welcome to the world of Cartboy and the Time Capsule (pub date April 2013).
In the spirit of Diary of a Wimpy Kid, Cartboy is a novel that's filled with illustrations, sketches, silly timelines, goofy photos, and hilarious captions.  But it is also so much more than a nod to that other bestselling series.  Cartboy is the reading ambassador I wish I'd known about when I was a struggling-to-read-kid in elementary school.
Author L.A. (Lori) Campbell lives in NYC and has two children.  Recently, I met Lori at a book party in New York (for another author) and we chatted about the best ways to get children to read – especially reluctant readers (and she commented that oftentimes these are our boys).
When Lori told me that her mission in life is to get all children to love books and fall in love with reading – especially reluctant readers aka me when I was as a child – she hooked me.
When, a few weeks later, Cartboy and the Time Capsule arrived at our front door, I had to wrestle my ten-year-old twins to the floor to get the copy first!  Unlike me, my boy-girl twins J and M LOVE reading (and always have) and have been anything but reluctant when it comes to embracing books.
It's been several days since our trio finished this made-us-LOL-book, which is the first in a series (thank goodness).  We all loved it for different reasons and found ourselves debating over what was better, funnier, and our favorite part when my daughter and son told me (actually shouted at me) that I should let each review the book for my blog instead of me.
In the spirit of embracing books and making reading contagious, I am thrilled to share 10 year old J and M's "He Said/She Said" review of Cartboy and the Time Capsule.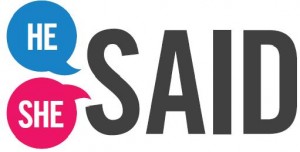 SHE SAID by J "Since I'm one minute older than M, I got to post the first review.  Cartboy (the book and the character) are SO funny. I loved it.  I think this book is "neutral" – by that I mean both girls and boys will love it but it's probably a little more for boy.  It's similar to Diary of a Wimpy kid but it is better because it has much more of a story and isn't just a graphic novel it's a real chapter book.  I liked all the characters a lot and the humor too.  I love cliffhanger endings and this had one but it was too much for me!  I need more info and I want LA Campbell to get the next book out soon."
HE SAID by M Cartboy and the Time Capsule is a funny book. A really funny book.  It's really good for boys to read because the humor is boy humor – bathroom humor, gross stuff.  I'm telling the truth when I say that it is a lot funnier than the Wimpy Kid books and it is one of the best books I have read in 4th grade.  Cartboy is a hilarious character.  When is the next book coming out?"

I can't help but add my 2 cents here – watching J and M fight over and devour Cartboy is a dream come true.  I struggled to read and now as an adult I read all the time and in a coincidence that probably isn't coincidental at all, I work in publishing.  Reading is a gift and opens doors for a lifetime of happiness. And it's authors like L.A. Campbell touching our families in ways they'll never know that make books the greatest gifts of all.
Now, I need to find out when the next book is out so I can grab the package before J and M!
# # #
Today's gift here on MSCSL is an obvious one:  Giving a child the lifelong gift of a love for reading. Here's to curling up with a good book.