Wednesday, May 29th, 2013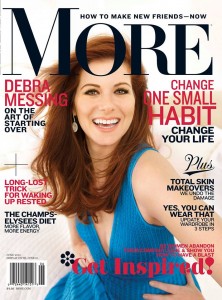 Today's gift:  I'm featured in a terrific piece in MORE magazine! Yes, THE national women's magazine!  Yes, that MORE magazine!  I'm a huge fan of Lesley Jane Seymour's gorgeous and smart publication. I've read it for years.  And today 3 years after starting my blog, I'm celebrating the miracle of bridging the online and print worlds (My name is in a real magazine on a news stand!! Pinch me!!).
The June 2013 cover story by my friend and gifted writer/author Brian Alexander tells the story behind MSCSL and my blog and my first half MORE/FITNESS marathon (that's just my slice — the overall article is about the power of habits and the key to change they can represent).  I suggest you all sprint to the store and buy the issue (the one with the gorgeous Debra Messing on the cover) and then jump to page 72 and "Change One Small Habit, Change Your Life" (I'm on pages 77 and 102!).   This is life-changing stuff friends — you can do it, too.
I hope my story and my contribution to Brian's piece motivates others.  The unexpected gifts of motherhood (the challenges and the joys) were the impetus for my change — and I think my personal story speaks to everyone (Moms, Dads, and more).
If you are new to my blog (welcome!), I invite you to read about all 365 gifts that I blogged for one year (Yes, I did write every single day for 365 consecutive days) so please start with my very first post on March 21, 2010 ( you can also read the About page, too) and then I suggest you read the single gift entries that followed in order and you'll see how my journey transformed my life in one year (dates:  March 21, 2010 to March 21, 2011).  Please note:  After my one year of gift blogging ended, I decided to keep writing and blogging and so you'll see a subtle shift in the after March 21, 2011 — these are more varied posts but in keeping with the spirit of celebrating unexpected gifts, I always start my posts with a gift of the day.
Please tell me MORE (couldn't resist) about your story and your thoughts about the article here or on my facebook page or on Twitter.
Here's to rebooting YOUR habits and changing YOUR life.
# # #