Sunday, August 18th, 2013
Do you remember the first band you lived for? Do you remember the first concert you attended? Can you feel that electric anticipation of the lights starting to dim while you wait for the band's first song?
What if you could relive those moments again, this time as a Mom – and with your daughter?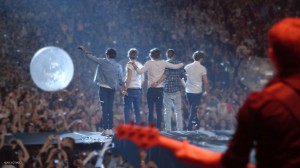 This is exactly how my daughter and I both feel about the upcoming movie ONE DIRECTION: THIS IS US in theaters on August 30.
My daughter (age 10) and I have loved the band since day one. We've had countless dance parties and impromptu karaoke parties. And she's spent hours with her friends listening to ONE DIRECTION in her room and on her iPod.
So when I heard about the ONE DIRECTION: THIS IS US movie I started counting down to release day with my daughter and each day our excitement builds. We can't wait! Without a doubt, this is going to be like attending a ONE DIRECTION concert – the sights, sounds, and energy of being part of the audience has us both jazzed!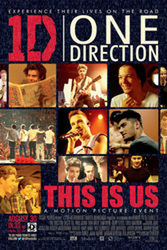 To write this post, I interviewed my daughter J about the movie after we watched the trailer and she had this to say:
Why are you so excited about this movie? I can't wait to see the band on the big screen in the theater – it's going to feel like I'm at a ONE DIRECTION concert. I'm pretending they will be there in person!
Why do you and your friends love ONE DIRECTION? The band is SO talented. They are really musical – they sing, they dance, and they are very handsome lads (that's your word Mom! LOL).
My daughter and I both love the songs "What Makes You Beautiful" and "Best Song Ever"; as a Mom I love the positive message of the band. And we are not alone – the release of this movie is a global event, spanning North America to Europe to Asia (and beyond). My daughter J and I feel connected to the energy of all the fans (they have almost 20 million facebook followers! ) and we are already having fun with the cool and interactive website which has so many awesome (my daughter's words) features including:
Without sounding too much like groupies (LOL), we have some favorite links bookmarked already, and we are active together on social media and I'm sure your daughter will love to visit them with you. Having the rare opportunity to experience this movie and to be a fan alongside my daughter is such a gift.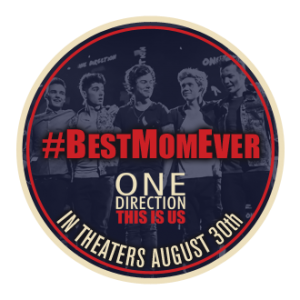 So, kick off your own pre-party for the movie with "L and J's Top 10 ONE DIRECTION: THIS IS US movie" links –
1) The Movie and A Listening Party

2) Watch 1D Live from the Red Carpet!  Can't make it to London for the premiere? No problem, watch coverage of the red carpet live from your family room . Click here: 1DThisIsUs-movie.com
See 1D 3 Days Early: Be among the first to see the movie (your daughter will love you for it) bit.ly/1DTugg

3) 1D Trailer Remix: Make your own 1D trailer www.bit.ly/1DTrailerRemix

4) 1D Meme Generator: Fun and easy way to make a 1D meme http://bit.ly/1DMemeCreator

5) Follow on Twitter: https://twitter.com/1dthisisus Hashtag:  #1Dmovie

6) Follow on YouTube:  https://www.youtube.com/user/OneDirectionVEVO

7) Check out Google + https://plus.google.com/+OneDirection/posts
ONE DIRECTION rocks and we know the movie will too!

# # #
Disclosure:  I'm proud to be working with SheKnows to share information about the ONE DIRECTION movie and I hope will share my Sponsored post.