Wednesday, March 19th, 2014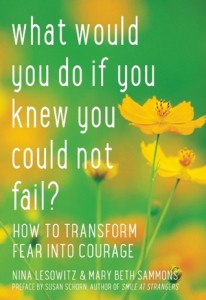 Today's gift:  Courage!  Specifically, a new book WHAT WOULD YOU DO IF YOU KNEW YOU COULD NOT FAIL? by Nina Lesowitz & Mary Beth Sammons.  It is a guide that teaches readers to transform their fear into courage and it belongs on everyone's book shelf.
The authors share personal stories, expert advice, exercises and more in this delicious little book as way to teach us how to live every day of our lives with confidence.  The two authors live their daily lives with gratitude and also wrote a bestselling book that is also a favorite of mine:  LIVING LIFE AS A THANK YOU.
The title of the new book comes from First Lady Eleanor Roosevelt, an extraordinary role model for some many throughout history, and by channeling her spirit, the book will surely resonate with anyone who has ever faced a fear, a challenge, adversity or an unexpected life event.
The personal stories contained in this compact book are BIG and BOLD.  Courage comes in all sizes and shapes — from cupcake sized to scuba tank dimensions to the vastness of whole countries — and yet we learn that it's not the size that matters but the passion behind the bravery.
One of the best parts of WHAT WOULD YOU DO IF YOU KNEW YOU COULD NOT FAIL? are the exercises and daily practices we can all weave into our busy lives.   Here readers can learn, for example:
1.  How to create an Attitude of Courage
2.  How to create a Courage Ritual
3.  Simple Steps to think Positively and Live Courageously
Finally, the book is filled with inspiring quotes (I collect quotes! Swoon!) — from the back cover book blurb by Good Morning America's Lee Woodruff to chapter quotes from Elie Wiesel, Ernest Hemingway, Martha Beck, and Mother Theresa.  These introduce chapters by cancer survivors, athletes, neighbors, spiritual teachers and others.
Tomorrow is the first day of spring and the idea of rebirth and renewal frames why I think this book is a must-read for everyone — Start new, and  start tomorrow by living with courage and you'll face all your fears –and life–with grace, determination, and spirit.
I wish you all a Happy Spring filled with Courage!
# # #
Disclosure: I'm proud to be a part of the Courage Blog Book tour for this book. Viva Editions, the publisher, sent me a review copy of this book.  All opinions are my own.