Wednesday, May 21st, 2014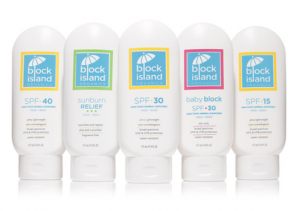 Memorial Day weekend is the unofficial start to summer and this means all the BEST things are coming our way.
Sun. Fun. Sand. Fun. Surf. Fun. And more Sun!
I live at the beach or on a boat all summer.  I'm also a sunscreen addict which is why I am so excited to share today's MSCSL gift with you: Block Island Organics Sunscreen.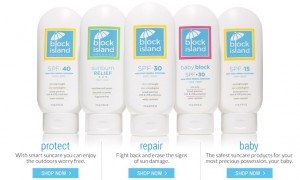 There are so many things I love about the BIO sunscreen (starting with the name b/c I met my husband on…wait for it…Block Island!).
I'm a huge beauty and product fan (more like addict!) and when my family and I received some complimentary products to try out I was delighted.  In fact, there are so many reasons I love this line that I created The Top 10 Reasons I Love Block Island Organics Sunscreen (and You Will, too!) List:
1. The Name (see above)! The brand Block Island Organics name instantly conjures New England summer images.  Block Island has the nickname of the "Bermuda of the North" and if you have ever visited you will agree.
2. The Logo — the crisp palette of turquoise ocean blue, summer sun yellow, and clean clear brilliant white are inviting and perfectly  match the pure and natural ingredients and promise of this product line.
3. The Smell — the sunscreen barely has a scent which I love.  I (along with my children) are very sensitive to strong smells.  My twins (boy-girl, age 11) loved this unscented (mostly) product even more than I did.  The slight aroma is aloe and eucalyptus and it suggests, again, nature and natural.
4. The Ingredients — especially zinc oxide and titanium dioxide! I'm doing a happy dance because in the past, I have had to order VERY expensive, hard to find in the stores sunscreens in order to get these two essential ingredients in one product.  Not only do they prevent sunburn but they protect from harmful UVA/UVB rays and for me, this is a must when our family is sailing or sunning.  And because I don't want wrinkles and I want to prevent aging, and because I'm a sun-lover, I am happy this sunscreen BLOCKS (pun intended!) out the bad stuff.  I feel great about still enjoying the sunshine knowing I am protected.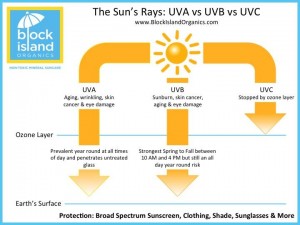 5. The Consistency — I LIVE for ultra lightweight sunscreens that also work for sensitive skin. Plus it is non-comedogenic and water-resistant. Our family tried out the face + body sunscreen for soccer (the twins), running (Mom), and working outside (Dad). We give the product high marks — it was easy to apply and it stayed in place and it worked for hours.  It's also TERRIFIC that the sunscreen is for face + body — one product does it all!   (Note: it has a slight white upon application and that aborbs quickly into your skin — to me it means I'm getting the good stuff without any synthetic ingredients. Yeah!)
6. It's Organic. Need I say more?
7. It's made in the USA.

8. There are different SPF choices – depending on the coverage you need, you can buy 15, 30, or 40 SPF.  And there is a special edition for Baby.
9. There are other products in the line and plans to expand! Block Island Organics sells complimentary products for after-sun care and to repair skin damage with (hopefully) much more to come.  Is there a LOVE button?
10. Block Island Organics created a special 20% discount code for me, you, and our friends! Order your Block Island Organics sunscreen starting today, Thursday, May 22 through Thursday, May 29 directly from Block Island Organics and receive a 20% discount off your entire order.  Simply enter the code laurat at checkout for the savings.
So, grab your virtual shopping bag, fill it up, enter the laurat discount code at check-out and let's all kick off Summer 2014 safely with Block Island Organics!  Here's to The Block.
# # #
Note:  I received press samples in exchange for this review.  All opinions are my own. Thank you Block Island Organics!