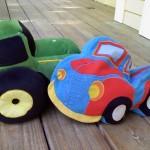 M has a beloved car pillow (Car-y; a gift from Nana and Papa) that he NEVER sleeps without and has vowed never to replace.  One day, I'll do a post to honor Car-y but for now all you need to know is that Car-y is like M's pet/younger sibling/friend all rolled in one very well-worn stuffed object.  In fact, Car-y isn't even a car — she's a pick-up truck!
Recently, competition arrived in the form of Johnny the John Deere Tractor pillow.*
It's fun to watch the two pillows (via M's creative mind and his puppetry) fight for M's attention, affection, and love.  It's like watching a Nascar race and a tug-of-war.  It's wonderful to see him practicing his social skills and imagination as this battle plays itself out.
Johnny has big advantages over Car-y including the fact that he is new.  Somehow, call it mother's intuition, I know Car-y will always hold a special place in M's heart and in his bed.
I am grateful for this fleeting moment of innocence when my son still entertains himself with stuffed animals and I get to watch.
*Don't forget to place your bets ladies and gentleman — Car-y or Johnny?
Tags: mommy blog, sensory processing disorder, Social Skills