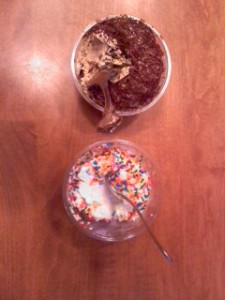 Temperatures in the 90s.  The Three H's (hazy, hot, humid). A pre-summer summer day.
So, it's fitting that today's gift is  ice cream.  Just thinking about it cools me.
J loves the traditional ice cream cone with rainbow sprinkles and tries a new flavor each time. M loves the cones and prefers a scoop of vanilla ice cream at home.   I love the ice cream and the cone and the sundae and…(like my husband).   A friend / former colleague in NYC posted on facebook that Ben & Jerry's delivered free ice cream to offices in Manhattan today.  Imagine the smiles the delivery people witnessed.
I'm thrilled to honor this tasty dairy treat on a sweltering day. I don't know anyone that is not an ice-cream fan (though my little sister took years to get over her childhood phobia of a dripping, melting, chocolate ice cream cones with sprinkles from Carvel).  During stressful times, a decadent and delicious ice cream cone is like a millisecond of a mini-vacation (coffee chip on a waffle cone with chocolate sprinkles triggers a spa fantasy for me).
Traveling in the surprising –and sometimes strange but always rewarding–land of motherhood,  I learned along the way that the smallest things and the tiny moments bring the purest joy.  These gems of motherhood can be a wet kiss, a tight hug, a shared ice cream cone.
Rediscovering and sharing the magic of  ice cream on a hot summer day with my children is a gift.  The cherry on top:  finding a piece of my own childhood hiding underneath the sprinkles.