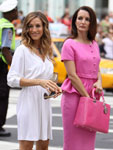 In honor of Carrie and the girls (yes, I went to see Sex and the City 2 tonight, opening night), today's gift is short and sweet:  I am thankful (more than I can express) that before marriage and motherhood and after, I have a life of my own.
Without my "Carrie" days, I could not and would not be the person (and especially the mother), I am now.  And I'm not sure I would appreciate the life experiences I had pre-marriage and pre-motherhood as deeply as I do today.
I love being a wife and mother and I also love that I am still the girl I was before I added those roles to my repertoire.  I just don't get to wear the clothes as much.
Tags: Motherhood, Sex and the City 2