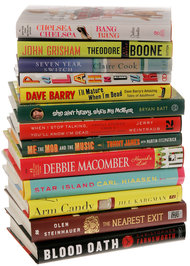 This week Summer Reading lists continued to appear including two big ones:  The New York Times (http://www.nytimes.com/2010/05/28/books/28beachreads.html?ref=books) and USA Today (http://www.usatoday.com/life/books/news/2010-05-26-summer-books-main_N.htm).
I have a confession:  I wait for these lists and then I devour them and hungrily mark them with highlighters, post-it notes and comments.  Then, I make a list of books to buy and books to borrow (from a friend or the library).  This ritual, among a few others like a great pedicure, signal  the official start of my summer.
Ever since I can remember, diving into a good book has been a favorite past time–especially in the summer. There are never enough hours to read everything and it's a challenge to cross all the books off my list by Labor Day.  But I try.
My devotion to all things literary shaped my career too (book publishing) and I always smile inside that I "get" to do this for a living.
All of these musings are the wrappings on today's gift.  The bookworm legacy lives in on J and M.   To watch J and M naturally follow in my footsteps is a thrill.  Watching them read is so beautiful.  J likes to sprawl on a towel in the sun and read.  M likes to read everywhere and anywhere — he brings his books all over.
Without any effort, my husband and I passed along our devotion to books and reading to the twins.  It's beyond cool that their favorite gifts are books, that they seek out bookstores and local libraries whenever we travel and that they ask us about word definitions and history more than television and video games.
Now, please excuse me:  before the kids get home, I'm going to get a jumpstart on my summer reading…