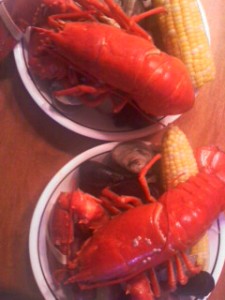 Memorial Day weekend rocks!
It kicks off summer.
It is the weekend I met my cute husband.
It's the beginning of the all things fun and great.
And…it's lobster time.
I always liked lobster. But, now that my childen are into Lobster Bakes I have a whole new appreciation for this crustacean.  It's become a summer tradition for us and the kids take part in all the steps–from buying the lobsters to selecting their favorite parts to eat (J loves the knuckles and also littlenecks; M loves the claws and chourico; I love the claws; my husband likes the tail the best).
I feel very thankful that I can share these experiences with M and J, melted butter and all.