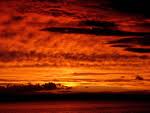 Water and M are great together (You may remember my post about swimming and M "Just Keep Swimming…").  The combination is a natural therapy — better than any O.T. or P.T. session.
Today's gift is also an aquatic one:  Sailing calms M in ways I can't describe (but I'll try here).
M's always a bit excited and anxious to get going on a boat day.  He anticipates his favorite boat fleece blanket.  He wants to know all the details of the day.  He's hungry and thirsty.  But, as soon as he's on the water, he instantly stops all his excessive motion — including his stereotypies (jumping, flapping).   His entire body is very, very calm.  Calm to the point that he usually falls asleep at some point during the sail.  In addition, he is able to focus on so many different things — steering the boat, the waves, the wake, the birds, other boats, games all without noticing that he has temporarily forgotten about his trucks, tires, and car magazines.
It's a wonder to watch.  M seems so happy. So content.  So calm.  So cute.  So comfortable.  It's like M morphs into the best version of himself on the water.   We all feel so connected — both as a family unit and also all of us individually with M.  And that is a true gift.
Tags: sensory diet