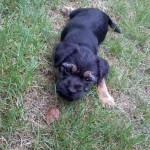 Dear Rocky, our 9 week old Border Terrier:
First, we have to tell you how much we love you and are so happy to have you in our family!
We hope you like us and our home.  We know you are still adjusting to the sights, sounds and smells not to mention the noise, the furniture, and us.  We are still learning about your needs and your personality so just keep being a good boy (no nipping!) and we will keep doing our best.
As the Mom of two active children, having you in our family makes life even busier for me.  But you are already giving us so many gifts — especially our sensory needs child M.
So, a giant thank you for today's gift, Rocky.  Since you joined our family, the twins have been spending every spare second outside with you. They are using the swing set again.  They are planting.  They are doing shows.   They are getting dirty.  They have stopped asking for tv and computer.  They have stopped bickering.  They are meeting M's sensory needs in the best way possible.
Sure, I'm a little sleep-deprived.  And I'm on a strict schedule if I go out to a lunch or meeting.  But when I think of your cute face and how you are helping us all grow, I smile and I know we couldn't live without you.
Now, come get a treat!
xoxoxo,
Me