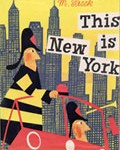 Here is how I envisioned today's  post:  a funny entry about my absolutely wonderful reading experience in M's class this afternoon for his school's "Drop Everything & Read Week."
Well, you remember my first post:  "You can't always get what you want?"…
At 12:19pm today, armed with the books my twins selected after breakfast  for my guest readings today, I drove to school. I was more nervous than a first- time author appearing on Oprah.  First graders can be a tough audience.
Time:  12:21 p.m.
First stop: J's class.
Book:  Tell Me A Scary Story…but Not Too Scary! by Carl Reiner (one of her fav's)
Scene:  Happy, silly first graders surround me as I enter the classroom.  They quickly sit on the floor. I'm stuffed in a rocking chair with J sitting cozily on my lap.  We read and turn book pages together.  J is in heaven:  the class loves the story and the guest reader (me).  I receive a standing ovation.
One down, one to go…
Time: 12:40pm
Second Stop: M's Class
Book:  This is New York by Miroslav Sasek (selected by M because of the cool vehicles)
Scene:  I peek into the classroom — the Teacher is finishing a math lesson. M sees me.  He immediately says "NO" very loudly.  The teacher comes to the door, we chat and he invites M into the hallway.  Before joining us, M decides to make a small scene, so now I'm sweating and feeling a little dizzy, not to mention there is a growing lump in my throat because I know where this is going.
I kneel down to M's eye level. Calmly, I ask him if he wants Mommy to read to the class. He says a firm NO and then the Teacher reconfirms his decision.  M seems ok with his choice.   The Teacher signals for me to leave.  Quietly, I walk away, feeling deeply disappointed that we couldn't share this experience.
When I get home, I need something to turn my disappointment around.  I find it in the words of  Martin Luther King Jr. 's beautiful quote,  "We must accept finite disappointment, but never lose infinite hope."  I remind myself there will be another opportunity to have a special experience with M and I'm able to move forward with my day.
Hours later, after M serenades the family (Pawpaw Patch), he quietly asks, "Mom, will you read the New York book to me now, since you did not read it in my class today?"
The couch becomes M's classroom, the coffee table his fidgety friends, and the television his Teacher as we create an imaginary "Drop Everything & Read Week" event right there in our family room.   After we read the last page, M's bursting with pride and I gratefully accept today's gift.
Tags: autism speaks, Books, literary, Oprah, reading, sensory processing disorder, twins