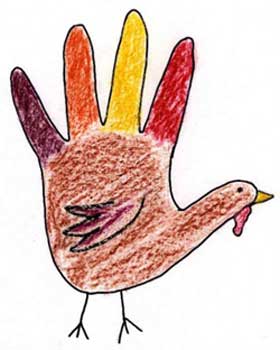 M is preparing for his grade's Thanksgiving Show on Wednesday.  He's full of positive emotions about it:  pride, excitement, confidence.
Today he shared every single detail about the show — including his part — and rehearsed the performance with my sister and her husband. He sang every song to relatives, stopping only to explain the meaning and highlight both his and his classmates' solos.
It was astonishing to witness on so many levels and so I'm expressing my Thanksgiving gratitude a few days early:
Unlike in the past, M clearly wanted attention about the show and wanted to show off.  Thrilling!
M thought about what he wanted to share in advance and planned a multi-step scenario to tell family members about it — he made us all listen and pay attention to him.  He acted calmly and appropriately. Wow!
The show means so much to him yet he is able to channel his anxiety into excitement about a school performance for the first time ever.
M's desire to share with his aunt and uncle was focused and wonderful to watch and he was able to stay on task with cousins and loud noises all around him. Another Wow!
The show has a magical hold over M — he feels brave and strong and ready to do it.  Another first — no real jitters!  And I have to think this is because he had a brief stint as a pumpkin for Cinderella.  The Impossible is now Possible for my little guy!  That is magic.
I'll leave you with M's final words from the show,
"And everyone sang a thank you song…"