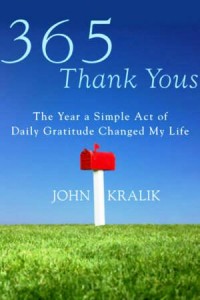 "Until you learn to be grateful for the things you have, you will not receive the things you want."  –from 365 Thank Yous by John Kralik
Dear Mr. Kralik:
Thank you for writing 365 Thank Yous: The Year a Simple Act of Daily Gratitude Changed My Life (Hyperion; January 2011, $22.99).
From the moment I heard about your book and later saw you on "Good Morning America", I could not stopping thinking about your story.  And when I read your beautiful thank you to your 7 year old daughter, I knew that your book had to be one of my blog gifts.
As the working mother of twins (one is a special needs child), it speaks to me on many levels.  Readers will find themselves in your thank you letters–they will connect the way you connected as brothers, sisters, parents, friends, lovers, co-workers, even strangers.  Your decision to dedicate one year to saying thank you is a lesson to all of us about gratitude, purpose and fulfillment.   Thank you, John.
Like many readers, I am moved by how your daily act of giving thanks turned your life around and in turn, teaches us that giving thanks is one of the greatest gifts we can give to others and to ourselves.  It literally changes lives moment to moment.
365 Thank yous is a guidebook for anyone seeking to change his or her life–one day at a time.  As I read the book, each chapter delivered sensible and accessible advice.  For example Chapter 5 "How Are You?" shows readers how the simple act of using the words thankful and blessed can set in motion self-fulfilling possibilities and attract good.
Reading your book this month, I was inspired to add a new resolution for 2011: to begin my own daily gratitude ritual.  Every day I blog about a daily gift here at My So-Called Sensory Life.  Starting today, I vow to take an extra minute to say thank you — beginning with this note to you.
Thank you for sharing your ups and downs, your sadness and joy, your self and your family.  Whether you were thanking your sons, your sister, the Starbucks employee or Grace, your heartfelt gratefulness for the big and the small proves the power of the human spirit.
I also want to thank you for illustrating  that life is really like a marathon:  your personal marathon victory proves that even during the dark moments when you feel like you can't go forward when you open your heart anything is possible.  365 Thank yous proves that the glass can always be half-full.
Thank you for today's My So-Called Sensory Life gift.  I know my readers will love it!
Warm regards,
My So-Called Sensory Life
P.S. : Congratulations on your appointment as a Los Angeles Superior Court judge. I was cheering you on throughout the book!
FOR MORE INFORMATION:
http://www.youtube.com/watch?v=UJGBujEmxKs&feature=player_embedded
http://www.365thankyounotes.com/
http://www.hyperionbooks.com/book/365-thank-yous/
ABOUT THE BOOK & AUTHOR:
The art of the thank you note is sometimes seen as a dying custom. With e-mail, cell phones, and other means of instant communication at our fingertips, the thought of hand-writing and mailing a card seems outdated and inconvenient. And following two years of economic struggles, environmental disasters, and other worldwide worries, it often seems difficult to find anything to be thankful for. At the end of 2007, John Kralik would have agreed. His law firm was operating in the red, his divorce still wasn't finalized, his apartment was the size and temperature of a toaster oven, and his girlfriend had just broken up with him. At the age of 52, it seemed as if he had nothing to be grateful for, and that he was about to start 2008 at an all-time low.
A walk through the hills on January 1, 2008 changed all that. Unhappy with both his lot in life as well as his attitude toward it, he realized that if he could somehow be thankful for the things he already had in life, perhaps the things he wanted would follow. His plan: send 365 thank you notes in a year, one for each day. By the time he was finished he had lost weight, ran a marathon, raised money for charities, turned his law firm around, reconnected with old friends and relatives, and gotten back together with his girlfriend. 365 THANK YOUS: The Story of How a Simple Act of Daily Gratitude Changed My Life (Hyperion; December 28, 2010; $22.99 hardcover) is the incredible story behind this inspiring feat, and proof that the personal touch can sometimes make all the difference.
John Kralik was born in Cleveland, Ohio, and attended the University of Michigan for college and law school. He practiced law for 30 years, and was a partner in the law firms of Hughes Hubbard and Reed, Miller Tokuyama Kralik and Sur, and Kralik and Jacobs. In 2009, he was appointed a judge of the Los Angeles Superior Court. He lives in the Los Angeles area, and continues writing thank you notes to this day.
365 THANK YOUS:
The Story of How a Simple Act of Daily
Gratitude Changed My Life
By John Kralik
Hyperion
$22.99 hardcover
ISBN-10: 9781401324056
Tags: 365 Thank Yous, 365 Thank Yous by John Kralik, grateful, gratitude, John Kralik, My So Called Sensory Life, Thank you note