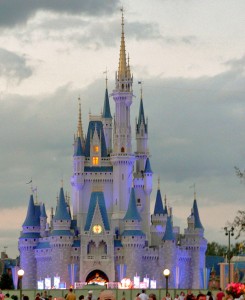 Before I began blogging, I drank the Disney Kool-Aid and became an instant believer that the place really is magical and that Disney really can make dreams come true.  This after a life-altering trip with the twins.  I'm still stunned about this myself.
For the record, I am not a theme-park fanatic and prior to this "Dreams Come True" trip, our family experience with Disney included a visit when the twins were 2 1/2 (and we were clueless about M's needs) and M rode one ride (Dumbo) after massive coaxing and bribing and then spent the rest of the time on the slimy Disney pavement in front of the Pinocchio Cafe, face down, crying, screaming, tantruming and I vowed never to return.
Fast forward several years:  armed with crucial parental knowledge, a Sensory Processing Disorder Diagnosis, The Unofficial Guide To Walt Disney World (by Bob Sehlinger and Len Testa) and my burning desire to conquer our past failure, we decided (somewhat spontaneously) to try The Magic Kingdom again.  Why? With all the sensory stimulation, crowds, noise, lines, social expectations why would I ever put M in that situation again?  G.A.C.
Guest Assistance Card.
Accidentally, I discovered that Disney has a program for guests with "invisible" disabilities and challenges like Autism for example.  Upon entering the park, families with special needs children are issued this card (go to Guest Services before entering; the child must be with you) and then the magic begins!
M's issues were handled with kindness, generosity, and respect. In fact, we were all treated like royalty.  Every person in a Disney uniform that glimpsed our card became an instant friend or cheerleader or guide.  Without the G.A.C. we could NEVER experience Disney.  NEVER.  And J could NEVER experience it as a typical child because M would be on the ground in terror just like he was at 2 1/2.
I can't rave enough or say enough about the doors the G.A.C. opened for our family — literally and figuratively.  We saw pure joy on our children's faces and my husband and I felt like kids again.
Thank you Disney — a dream is a wish your heart makes!  I can't wait to return!
# # #
For More Information:
1.  Google Disney Guest Assistance Card
2.  Follow this link and read about the card in The Unofficial Guide to Walt Disney World:
http://books.google.com/books?id=HnBMWdps1-0C&pg=PA367&lpg=PA367&dq=the+unofficial+guide+to+disney+guest+assistance+card&source=bl&ots=zvy7cUk358&sig=-lqx89IWK_bYjxVN_PzdrFCp1jA&hl=en&ei=lfNATcGUDYSesQP_zaX7Cg&sa=X&oi=book_result&ct=result&resnum=6&ved=0CDwQ6AEwBQ#v=onepage&q&f=false
3.  Buy the book:
http://www.amazon.com/gp/product/047061529X/ref=pd_lpo_k2_dp_sr_1?pf_rd_p=486539851&pf_rd_s=lpo-top-stripe-1&pf_rd_t=201&pf_rd_i=047046030X&pf_rd_m=ATVPDKIKX0DER&pf_rd_r=1HGCG51NFYMTV5R6GQR7
Tags: autism, Disney, Guest Assistance Card, sensory intergration disorder, sensory processing disorder, Special needs, The Magic Kingdom, The Unofficial Guide To Disney, The Unofficial Guide to Walt Disney World 2011