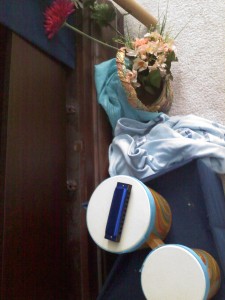 6:00a.m. — Ring, ring, ring.  The phone call canceling school severs my connection to a sweet dream.
Ah, but wait…silence.  The twins are still sleeping.  I settle in to catch a few more zzzz's.
7:00am — Tap, tap, tap.  Clap, clap, clap. Whisper, whisper, whisper.  Giggly announcement in unison in my ear:  "The Wake-Up Band is Here to Wake You Up!"
At the foot of my bed — J and M prancing and using "delicious" words to wake us up with an original song about the time, the snow, alarm clocks and instruments.  They have a real groove going and skillfully play their real and makeshift instruments.  Is that a Bob Dylan riff I hear during M's harmonica solo?  I know that the tune J sings is based on a Hannah Montana song.   Of course, she has props for her part of the show — dried flowers from Nana, a basket, a diaphanous scarf she skillfully twirls.  The twins sing and dance in harmony. The crescendo and then it all ends with a jump on the lumpy down comforter hiding Mom and Dad's legs.
I can't wait for the next snow day and the return of The Wake-Up Band.