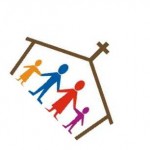 Today's gift:  M really likes Sunday school (CCD)!  And he's a star in class!
Last year we policed his CCD class and had to give his teachers elaborate plans (and safe pencils because he almost swallowed several erasers from chewing on them) so he could stay on task for the hour-long class.   It was a struggle each Sunday and he missed many classes.  It was very hard for all of us; M wanted to do it, but once there it was too much for him.
Yesterday, as he did last week and the week before, he told us that he really likes going to CCD and that it is "great" — especially the  good snacks.  When class ends, he recites the lesson of the day and thoughtfully discusses it with our family.  It's getting through to him and it's a huge milestone for a guy that struggles going to school M-F.
As my relatives from the old-country used to say, someone is looking out for us upstairs.
Amen!
Tags: CCD, sensory processing disorder