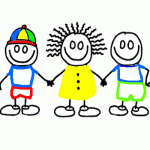 Today's gift:  an unexpected generous gesture from a friend.
I had a last minute appointment this morning and a friend offered to watch J and M so I could dash to and from my errand and be home by 9:00am.
Our friend C confirms that it takes a village and he's an important part of ours.  I can't thank him enough for his help today.