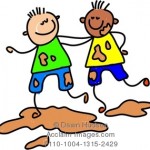 Today's gift:  M was a mentor.
Little (boy) Cousin J has been following M around all weekend.  It is adorable.  When M jumps, Cousin J jumps.  When M drives a car, Cousin J drives a car.  When M eats, Cousin J eats.  It is a delightful and new experience for us all.
Today, I encouraged M to teach Cousin J how to make siren sounds, how to identify construction vehicles and to share his puppy video.  Cousin J observes M with wonder and awe.   Because he is almost 4 years younger than M, he doesn't judge M's social quirks.  Instead, M is the magical all-knowing  vehicle expert and Cousins J's big cousin.
Watching the boys –  heads bowed together — looking at a book or listening to the two talk about how the matchbox cars they are driving crash is magic for me.  In many ways, M's social expertise isn't much more sophisticated than Cousin J's knowledge.  The two are equally innocent and equally tentative with one another.  It's social skills in the slow lane — exactly the right pace for M.
Late today I walked in on the boys watching M's puppy video — two years ago (maybe even one year ago) M would not have tolerated another child in his space or watching his video.  He would have rejected Cousin J's interest.   But today M was unfazed by the attention.  He commented and critiqued the video while Cousin J sat at attention soaking it all up and enjoying his big cousin without knowing he was part of something bigger than the two of them — more important than puppies and matchbox cars and crashes.