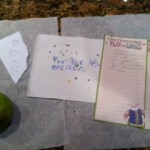 Today's gift:  the Leprechaun visited our house for St. Patrick's Day.
His mischievous antics (chairs on tables, open kitchen cabinet doors, general silliness) made the twins smile and laugh.  Their eyes sparkled while they ran around the house looking for the Leprechaun's tricks.
This tradition started in Kindergarten at school and it's become a fun family tradition.
He brings smiles and a little bit of that Irish luck.  Happy St. Patrick's Day!