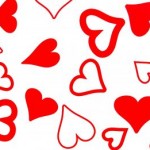 Today's gift: M's morning remarks about a new doctor on his team,
"When I see her, I have hearts dancing all around my eyes."
He swirled his fingers around his face and head as he said this spontaneous comment.
To know that Dr. B is connecting with M so soon and reaching him and his little soul and heart in this profound way makes me see dancing hearts, too.
Isn't Love –  in its beauty and especially in all its unexpected forms — grand?