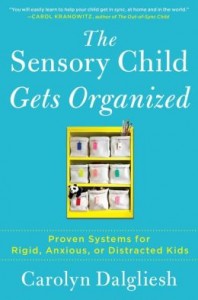 Today's gift:  an extraordinary, life-changing book THE SENSORY CHILD GETS ORGANIZED by Carolyn Dalgliesh (Touchstone, September 2013).
It's no surprise that My So-Called Sensory Life LOVES this book (and the author).   But what is amazing is how much I am using this book every single day as a Mom of a sensory child — finding new tips, trying new systems, and most of all finding community and support from it.  It's a gift.
And so, in the spirit of My So-Called Sensory Life and daily gifts, I'm pleased to give you, my dear readers, a gift today.  Carolyn did a terrific Back To School Q & A / guest post with me for the book (which is already a best seller) and we are kicking off our week with it.  She shares amazing advice that all parents and families can use.
"10 Ways to Prepare your Special Needs / Sensory Child (and Yourself!)  for Back-to-School"  by Carolyn Dalgliesh
Chaotic is the single best word to describe my summers at home.  Why is this a deep, dark secret?  I organize for a living!  As in, I'm a professional organizer – people hire me and pay me to organize their homes, families, and business.
The lack of structure, summer travel, and later then usual bedtimes have me and my sensory family way out of whack by August. It takes all of my supermom willpower and Type A organizing instincts to embrace the chaos and not jump on the back-to-school wagon as soon as I possibly can (June!?) with my usual "get it all done now" organizing mentality.
For parents of sensory kids and special needs children (by sensory I mean like those kiddos AD/HD, anxiety disorders, autism, or sensory processing disorder), the end of summer and beginning of school can be a welcome reprieve. The idea of getting your rigid, anxious, or distracted child into some much needed structure can have you motivated to get this Back-to-School business started in a big way.
This week everyone is finally back to school  and so I'm sharing a few of my trade secrets as a professional organizer (shhhh!) along with personal tips to curb your own excitement and stay focused on a slower and more successful way to transition your sensory child (and yourself) back-to-school while also enjoying the dwindling dog days of summer.
1.  Unplug from Expectations - You will be bombarded with messages that back-to- school is a fun, exciting time for you and the kids as they get ready for school. Unplug from this and realized that for many sensory kids, back-to-school is a pretty overwhelming time full of change and new transitions. Be sure to proceed accordingly.
2. List & Prioritize Needs - For sensory kids, back-to-school is a three month process vs. a one week event. Start by making a simple map of supports you may need to anticipate over the first few months – for example new people & new routines, getting stuff to school and back home again, and homework supports. Prioritize the needs chronologically and no skipping ahead!
3.  Focus on Immediate Needs Only - To repeat for impact – Forget about the big, stressful project that you know is coming for your child in November. Focus on the immediate needs only and for back-to-school that's helping your child be ready for new teachers, new classrooms, and a new schedule.
4.  Spread out Shopping - Want to overwhelm a sensory child? Drag them to a loud, bright mall with lots of people and big signs that say "You're going Back-to-School". A slower more successful option is to shop for one or two things at a time over the course of a few weeks or better yet, get a few things by yourself.
5.  Bring in a Fascination - Even if you despise all things Pokeman, let your child bring in a fascination with school supplies. Getting a notebook, lunchbox, or backpack that taps into a fascination can be a simple way to help get ʻem over the hump.
6.  Build in Routines - Slowly start building in some of the school routines that your child will be dealing with – getting up a little earlier and picking clothes for next day are a few ways to start. The less "new" things your child is dealing with the first few weeks of school, the better.
7.  Make it Visual - Get your checklist writing, visual map skills ready. Nothing helps our sensory kids more then having a visual guide to help them move through the challenging. These work for morning routines to how to get along with Tough Timmy and everything in between.
8. Create a Small Tradition – Actions speak louder than words for many sensory kids. Having a special tradition you do the day before school starts can be the most gentle yet impactful way to let your sensory child know what's coming. A special lunch or a last trip to the ice cream store are much nicer ways to think about going back to school.
9. No Big Lectures - As much as you might be tempted to give your child a big happy lecture about what a great year this will be – DON'T. If you need to lecture someone, give yourself one. It will be a great year filled with lots of ups and downs, teacher calls and emails, and lots of meltdowns that will need your coaching and support. Be sure you focused on the big picture, good year part.
10. Get Ready for some Emotion - Yes, emotions from your sensory child but also emotions from YOU. You are going to miss everything about having your child around so get your tissues ready for that first day of school.
# # #
More about the author:

Carolyn Dalgliesh is the mother of two, a professional organizer, and the owner of Sensory Organizing a business helping sensory families, individuals, and businesses get organized.  She is the author of the new book The Sensory Child Gets Organized (Touchstone / Simon & Schuster, Sept 2013).
For more sensory organizing tips, connect with Carolyn on Twitter @helpsensorykids and on Facebook.
# # #
Thank you Carolyn!   Happy Organizing!
(Disclaimer:  I adore Carolyn — I'm her friend AND her social media publicist but even if I didn't know her, I'd be worshiping her!)
Tags: Carolyn Dalgliesh, Sensory Organizing, Simon & Schuster, SSK, The Sensory Child Gets Organized, Touchstone