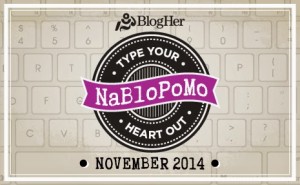 Today's gift:  National Blog Posting Month!  Otherwise known as #NaBloPoMo.
I decided to join the posting party and post every single day in the month of November.
This takes me back to my blogging roots — when I started blogging  My So-Called Sensory Life I committed to blogging every single day for one year (that's 365 consecutive days).  And I did it!  I experienced joy, gratitude, pressure, procrastination and so much more.  I'm hopeful that recreating a small version of this daily writing exercise will strengthen my writing muscle and take me on a new journey.
This month, I plan to give you a lot.  I post about:  family, parenting, books, food, fashion, and more.
Today, I'm celebrating my renewed commitment to personl writing and some quiet time with the family.
Thanks #Blogher and #NaBloPoMo.  I'm ready to WRITE.
Tags: Blogging, Blogher, NaBloPoMo, National Blog Posting Month, Writing