Saturday, August 11th, 2012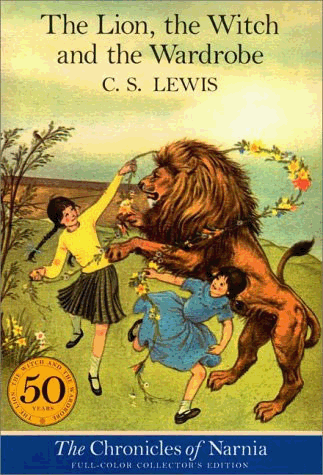 Today's gift: summer reading.
To me, nothing means summer more than books.
Growing up, my June-August schedule was Sleep, Eat, Read, Repeat.
And nothing conjures summer more for me than my childhood memory of reading C.S. Lewis' The Lion, The Witch, and The Wardrobefor the first time. TIME magazine lists this book — the second of the author's Chronicles of Narnia series — as one of the top 100 English language novels written in the twentieth century. Reading the book at age 9 was like walking through the wardrobe myself. I never forgot its magic and the story influenced every part of that summer.
To my delight, my daughter is nine this summer.
Since their birthday in January, I harbored the secret hope that I would relive my Narnia summer this year through my twins J and M. I've wanted nothing more than to see the book through their eyes. I'm happy to report that the Narnia series withstood the test of time (my twins both loved the books), but with new generations comes new magic. And so, even though she remarked that "Narnia doesn't have real magic" I've embraced my 9-year-old daughter's version of Narnia — the Harry Potter series by J.K. Rowling. (Note: She will read books 6 and 7 when she is older) and just as it did to my 9-year-old world, a magical story is transforming her summer.
Nine is a special number — in fact the number nine is strongly associated with the Chinese dragon, a symbol of magic and power. This is the age when sophisticated childhood imagination meets high level creativity and the result is like a 4th of July fireworks extravaganza.
I filled my 9-year-old summer days with hours of imaginative sibling play re-enacting my favorite book. My sister and I wrote elaborate scripts, sewed costumes, and best of all wrote all new chapters and adventures for Lucy, Peter and the gang. We believed that C. S. Lewis would have loved our changes and additions.
All month, J has been leading the Harry Potter charge — she is the vocal coach and has mastered all the accents for the cast of characters. She is the wardrobe mistress, the set designer, the acting coach and of course the director.
For hours and hours, sister and brother hunch over the book planning and plotting, then the two disappear into the proverbial wardrobe exactly like I did almost four decades ago. Now, that's real magic.